Everything You Need for Your Big Move
Are you planning a long distance move from Maine to another state, or perhaps out of the country? We can handle that for you! At MaineMoving, we approach long distance residential moving with extra care and planning.
As an award-winning interstate moving agent of North American Van Lines, the leading network of over 500 interstate moving companies worldwide, we guarantee you a full range of moving services by qualified, professional long distance movers, whether you are moving to Maine, across the country, or around the world.


FREE in-home, virtual or telephone estimates nationwide.
Priority service and scheduling for your move.
Local coordination and support from our trusted team.
Our moving services are U.S. Military and Government approved.
Every long distance move is different. We customize our services to ensure your unique needs are met and your move is efficient and worry-free. We have the staff and equipment to ensure your valuable furniture is packed, transported, and delivered anywhere in the United States or internationally. Full packing, custom crating, climate-controlled storage, vehicle shipping, dedicated delivery windows, and a stress-free experience!
---
What Our Customers Say


"We would highly recommend MaineMoving. They were very professional, fast, and took great care of our possessions. We were also extremely pleased with the rate they charged us. From beginning to end it was a great experience."
---
Custom Planning for Your Long-Distance Move
Our team will work with you to map out a custom plan to get your valuable belongings to your new home. Starting with one of MaineMoving's experienced Certified Relocation Consultants, we will arrange an on-site survey of your home and furniture. You can choose between full-service packing, fragile-only packing, and self-packing. Our careful approach to your long distance move will allow us to select the right truck for your move and the right plan to get you into your new home efficiently and on your schedule.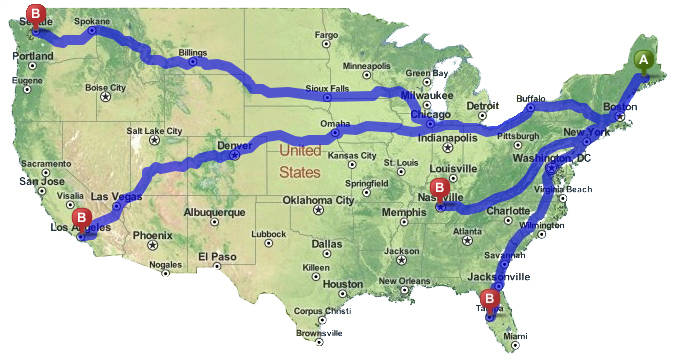 No move is too small for BlueExpress!

Want the convenience of a container move with all the benefits of a full service move? Then, North American BlueExpress, provided by MaineMoving, may be the moving solution for you. Our North American BlueExpress option is a full-service, container-like moving solution for small interstate moves offering alternative metal move containers from national corporations with a limited personal touch like PODS®, Pack-Rat®, and a U-Pack ReloCube®.


With MaineMoving's BlueExpress containerized moving through the North American network, you get:
Full-service, professional crew of expert movers to load and unload your belongings.
Guaranteed delivery date.
Accurate, in-home estimate, and a guaranteed price.
Optional packing service. You decide whether we pack, or you pack.
No heavy lifting for you, your family, or friends.
Our crews move everything for you.
One dedicated point of contact.
Your MaineMoving Relocation Coordinator will keep you informed throughout the move process.
Storage options are available.
Transported on a professional and secure trailer.
Does my long distance move qualify for northAmerican BlueExpress?
Households with four furnished rooms or less to move are considered a "small move."
Ask yourself the following questions:
Are you moving to another state?
Do you have a relatively small amount to move? For example, 4 furnished rooms or less.
Do you need to have your belongings delivered within a specific time-frame?
Do you want the convenience of a full service move?
If your answer to all these questions is "yes," then you're a perfect candidate for BlueExpress, our moving solution for small interstate moves. Let us help you plan a stress-free long-distance move by contacting a MaineMoving relocation coordinator today at 207-947-4114 or Toll-Free at 1-800-432-7336, a free moving quote.