Why a Professional Mover?
Why should you consider a professional moving company when moving across the street, across the US, or around the world?
This is really the first question most people ask when thinking about "the big move". Of course, the answer is different for everyone, but there are certainly many factors to consider when making a decision. Your answer will ultimately come down to one factor: Time.
Do-It-Yourself Moving
At a glance, a do-it-yourself move may seem very inexpensive. But there can be many hidden costs you may not be aware of, including your own time. Are you willing to pack all of your belongings and drive the van to your new location? Are you moving a considerable distance or just across town? self_movers.pngThese are just a few examples of things to think about when approaching a self move. With all the stresses of work and life, it isn't always easy to find sacrifice the necessary time to a self move. You will need to be responsible for organizing, packing and unpacking, loading and unloading heavy furniture and objects that can be awkward to carry without the necessary help. Some other aspects of a self move that need to be considered include:
Finding enough people (family, friends) to help you move within your schedule
Renting the necessary equipment to make the move manageable (vans, dollies, etc.)
Additional mileage charges beyond fuel expenses
Moving insurance
Unexpected time constraints and costs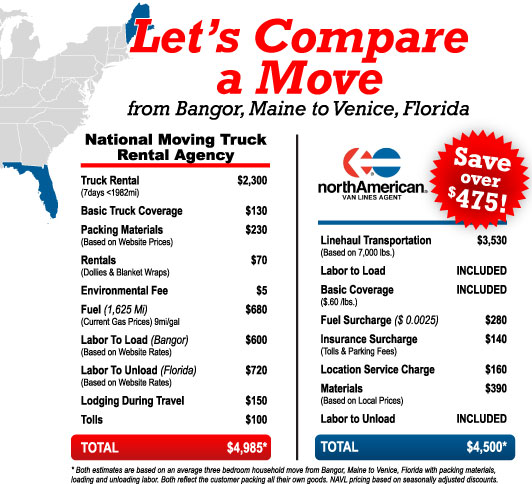 Professional Moving
Is your time valuable to you? For the a lot of us, it is. Most self moves take an entire weekend or more to complete, when a professional move with experienced movers can be completed in one day.
Professional movers are also more efficient in the process, because after all, it is what they do. Whether you are thinking about a Residential move, or a Commercial relocation, our staff of expert movers at Central Maine Moving & Storage have the complete skill set to handle all of your personal belongings carefully, regardless of worth. As packing and unpacking your belongings is a huge part of the moving process, our skilled movers can perform this portion of the move in half the time it takes a self mover.
When self moving, people tend to use multiple vehicles, or end up using a moving vehicle that is much to large for all of their belongings, leaving a lot of empty space, and lost money. Professional movers can analyze your moving situation, determine the right size vehicle for your move, and maximize the given cargo space which will end up saving hours of moving time. Other benefits to consider include:

Experience a hassle free move
No unexpected extra expenses
Complete your move in half the time
Free up your valuable time to focus on family
Saving TIME, means savings MONEY!
So if you have weighed all of your options and have decided that a professional moving experience is right for you, please contact us today!