10 Tips To Speed Up Your Unpacking Process
We know you're very excited to get settled in your new home! Hopefully, you let us do all the heavy lifting for you and you're energized and ready to settle in. Here are some tips that will help you unpack your household goods quickly!
1. Clean Before You Unpack
Before you begin unpacking your personal belongings into the new space, make sure you have a clean slate to work with! As exciting as it is to see books lining the shelves and furniture outlining the rooms, a good foundation for unpacking should always come first. A good dusting, spritz with multi-purpose cleaner, and thorough vacuuming will set the stage for your unpacking process as well as ensure that your possessions stay safe and beautifully showcased.
2. Stay Organized While You Unpack
Resist the urge to rip into boxes as they come in the door! Instead, place boxes, totes and furniture in the rooms they correspond to as they come into the new space (or direct your friendly movers to the right rooms!). Once everything is unloaded, make a game plan and outline the next steps with a list. This is when that inventory list you made (or your movers provided!) comes in handy!
3. Start with the Necessities While Unpacking
If you put together a "necessities box," now is the time to open it up and start putting things away! Generally, this is the collection of items that you took with you during the move and contains things like basic personal care items, prescriptions, books, children's favorite toys or blankets, important paperwork, and food preparation tools for the first few nights. Doesn't it feel good to start putting things away?
4. Unpack One Room at a Time
Stay focused and limit yourself to unpacking one room at a time. It's easy to get overwhelmed or sidetracked when you think of all the boxes as a single task — however, breaking it down room by room creates a manageable "to do" list that will help you work more calmly and efficiently. Pick a starting point and stick to the plan!
5. Work "Large to Small" While Unpacking
In each room, start by putting the relevant furniture in the most practical layout. Arrangements can always be tweaked later, but it's good to have bookshelves, tables, and seating, and other larger pieces set up and usable for organizing as smaller items come out of the boxes. Otherwise, you'll end up with piles of books on the floor or unprotected decor that's much more likely to be damaged during the rest of the unpacking process!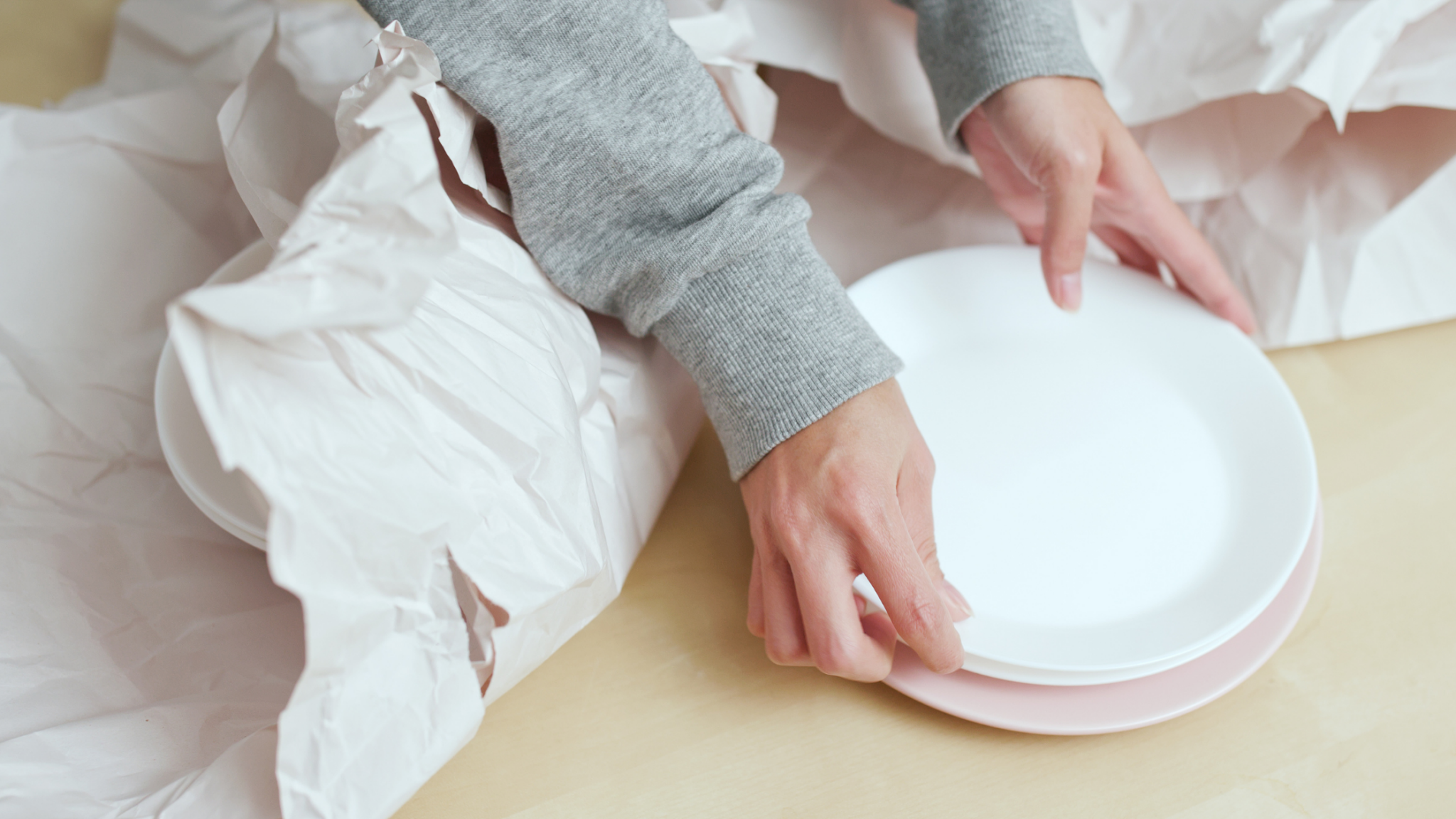 6. Begin to Unpack in the Kitchen
The heart of the home is a great place to begin as it's the space that will most likely be used first, and having an accessible kitchen will help your family make healthier choices as you continue the unpacking process. Line the cabinets if you can, then set up major appliances, sort out foods and seasonings, then stow pots, pans, and cooking utensils. You know you'll need that coffee pot in the morning and tomorrow will be off to a much better start after a good breakfast!
7. Unpack the Bedrooms Next
After food comes rest! There's nothing like the feeling of falling asleep in your OWN bed after moving. Additionally, a tidy and familiar sleeping space helps to promote a feeling of calm in an otherwise hectic and new environment. It's especially important for small children to have a sense of "home base" after relocating — being able to see that beloved bedside lamp or fall asleep reading their favorite books is bound to make a big difference the first few nights in a new space.
8. Take the Time to Create a Cozy Living Space
In a time of great change, having a place where the family can come together to talk, rest, be entertained, or just sit quietly is a beautiful luxury. Taking some time to unpack items for the living room or den offers the ability to put together a sense of home. You'll want to crash on the couch for a few minutes here and there as the rest of the day unfolds, and overtired kiddos will appreciate a place to nap, play, or quietly watch a movie.
9. Unpack the Bathrooms Last
Bathrooms are utilitarian and generally require the least amount of effort to become a usable space. It will feel good to rinse off the work of the day, so prioritize hanging a shower curtain and unpacking towels for everyone. The other must-haves on the unpacking list for day one include a first aid kit, daily medications, and toothbrushes!
10. OR – Just Hire the Professionals to Help You Unpack Quickly!
If you really want to speed up the unpacking process, the best option is to turn to the people who do it daily. The professional movers at Central Maine Moving & Storage have experience getting a new home set up in no time flat, which means a whole lot less on your plate for the day! This offers you the freedom to focus on more important things, such as exploring your new home, checking out the neighborhood, and enjoying time with your family.
Contact our team to inquire about unpacking services for your upcoming move! 207-947-4114